Over the past few years I've been hearing a growing contingent of football supporters who have spoken out against international week breaks, especially during the middle of the European domestic season. For those who are fairly new to the game FIFA,UEFA etc just like a league, has it's own match calendar which decides when national teams will play each other. The past week was just such an occasion, FIFA had a series of friendlies lined up, Africa had Cup of Nations qualifiers and UEFA had qualifying for its European championship tournament taking place next summer.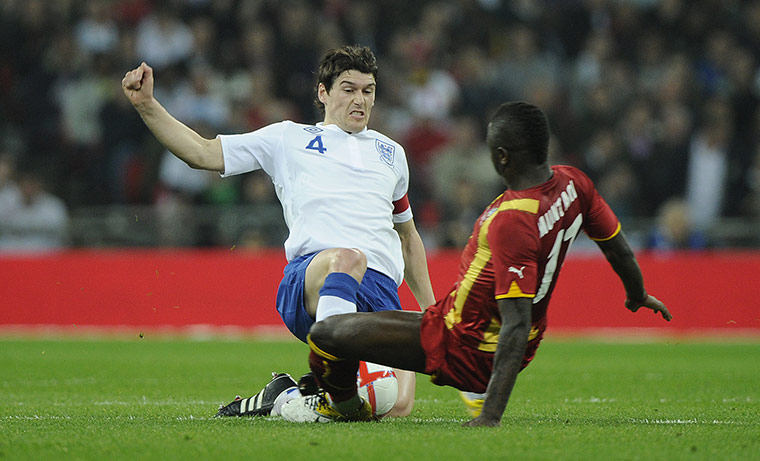 England v Ghana: More than a friendly

The major gripe from these supporters is that club football is coming to its exciting end of season stretch run, and that club football produces more entertaining games to watch. While I would agree that in about 80% of the time club football does bring about higher quality football. I would disagree with the idea that it is always more entertaining, have you watch a Blackburn v Wigan 0-0 draw?
This week we had some absolute dynamite matches including the U.S v Argentina friendly, Spain v Czech Republic and Russia v Armenia...yes that was actually a really fun game to watch mainly due to the crowd atmosphere. However there are two games that really made the week were the Netherlands v Hungary Euro qualifier and the England v Ghana friendly from Wembley.
Both matches with very different levels of importance delivered all the drama, excitement and skill you would find in any club match. Netherlands v Hungary was a back and forth game with 8 goals between them and a very high level of intensity due to it being a qualifier. At one point it looked like the World Cup finalists would fall to the lower ranked Hungarians. However the Oranjie turned it on in the final 15 minutes to escape with the three points.
While in London a match that had been panned by much of the ravenous English media before hand due to the amount of changes England manager Fabio Capello made to the roster turned out to be the friendly of the week. Both sides wanted to prove something to their supporters, Ghana who had 20,000 fans at the game wanted to beat England for the first time ever. While for the England players on the pitch they wanted to show Capello that they belonged as regular selections to the squad. He handed debuts to Manchester United on loan to Sunderland striker Danny Welback and Wolves winger Matt Jarvis, Capello also started newly signed Liverpool striker Andy Carrol his first start.
The game was played a fast pace and both teams played as if it were a Wold Cup match and not just a friendly. What really made the game was the crowd at Wembley, both sets of supporters were cheering on their sides and there tended to be a good feel vibe in the stadium. The game also had and exciting finish as Ghana through Asamoah Gyan who grabbed and equalizer at the death to finish the game at 1-1.
There is no doubt that club football will always grab more of the headlines and attention when it comes down to it, there are simply more games to watch than internationals. However what the club game cannot replicate is that unbridled passion for one's country that national team games bring. Just remember back to last summer and the emotions and pure excitement World Cup 2010 brought us, unlike club football which only captures the fans of that league, internationals at the highest level can and does captivate the world. I agree that maybe FIFA could do a better job of lining up the schedule of matches, but in no way should international matches completely be ignored as a footballing institution.
Cheers,
Mike